AUST GRADUATES 145 AS OBE, CHIDUME GET POSTHUMOUS HONORARY DOCTORATE AWARDS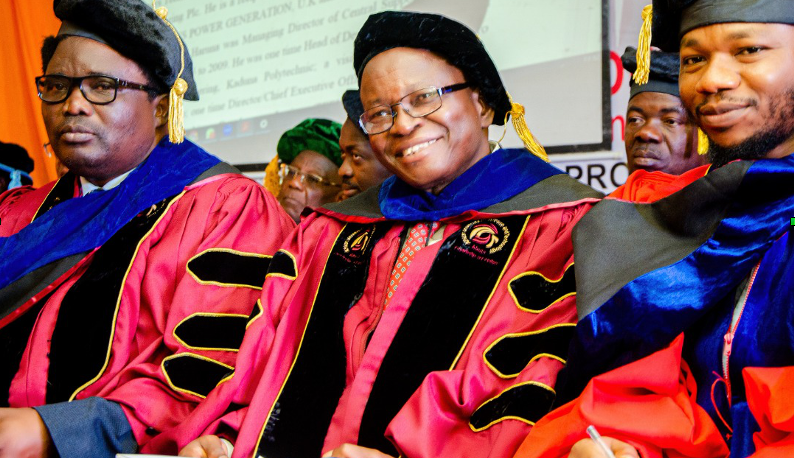 The African University of Science and Technology (AUST), Abuja, a pan African coeducational university in the heart of Abuja, the national capital of Nigeria made history when last Saturday, the university graduated 145 students in multidisciplinary sectors.
The epoch-making event which started with a convocation lecture presented by Dr. Umar  Buba Bindir, FNSE, National Coordinator, National Social Investment Program on Friday, December 2, 2022 climaxed on Saturday with the graduation ceremony for award of  of M.Sc. Ph.D and Honorary doctorate Degrees.
Dr. Bindir while delivering his lecture titled "Using technologies to provide solutions to poverty in Africa", revealed that Africa, especially Nigeria, has failed to decode how to connect its academia, "the output of our research and very knowledgeable people to solving our social problems".
He said: "Nigeria has between 240 to 250 universities. No country can have these kinds of very powerful institutions and still have challenges of absolute poverty at the levels we have.
"The input of this lecture in a science and technology institution, a prime technology university in Nigeria, is to ginger both the academics and students to realise the opportunities we have in our country to deploy this high-level knowledge to solve primordial problems [and get ourselves out of the] primitive and absolute poverty that we have found many of our people in.
"Scientists, researchers and research institutions should somehow be encouraged and even pushed to do research that is relevant to Nigeria's problems. Also, this involves teaching and building [the] capacity of young people relevant to Nigeria's problems so that, for example, they can see the advantages of palm oil in the southeast and south-south and how it can be used to manufacture soap that can be used across Nigeria. Also, young people in the east can now study the technique of evolving yogurt manufacturing and cheese-making opportunities in the north where the cows and milk are. This kind of osmosis of socialization can only happen in tertiary institutions.
"So, we must be able to learn that we cannot allow our institutions to evolve as tribal institutions. As institutions of higher learning, they must be cosmopolitan. This university is a very good example; it is not just cosmopolitan for Nigeria but for the continent. You can see the difference because you are interacting with people from different cultures."
The president of the Council for the Regulation of Engineering in Nigeria (COREN),  Engr. Ali Rabiu, advised state governments to carry out programs that will create employment opportunities for young people particularly and create social programs that can help te vulnerable people earn money.
"There is a lot of poverty in the land and providing solution technologies to tackling poverty is quite interesting, he enthused.
Addressing the graduating students at the convocation day, the Executive Vice Chairman (EVC) of the National Agency for Science Technology and Engineering Infrastructure (NASENI), Prof. Mohammed Haruna, FNSE, charged students to go out and apply their education to solve the problem of marginalization and corruption in their countries.
"The graduates come from 11 different African countries and these countries have so many socioeconomic problems and it is only through education that they have come from their countries to interact with students of other nations, seen a different environment and learnt to live together, tolerant and accommodate different opinions."
Speaking further, he explained that scientists need an enabling environment to help them survive in a troubling society.
"Science, technology and innovation are the solutions. But, generally, across the continent, administrators and politicians on the continent are yet to embrace these solutions that have created headway all over the world.
In his welcome address, the Acting President of AUST, Professor Azikiwe Peter Onwualu said that in the last one year, the process of expansion yielded additional results as the university apart from offering Masters and Doctoral Degrees now offer undergraduate courses in computer science, soft ware engineering, accounting, business administration, civil engineering, mechanical engineering, materials and metallurgical engineering and petroleum and energy resources engineering.
According to him " the development of new academic programs necessitated the introduction of innovation and entrepreneurship programs to ensure that research results produced by the university are patented and commercialized and that we produce industry ready graduates with digital skills"
He congratulated the graduating students on their academic performance and urged them to see their passing out as a first step in their career growth and development charging them to learn and relearn if they must be relevant to the emerging competitive market.
Onwualu, advised the new undergraduates to eschew academic cheating, drug abuses, truancy, destruction of properties that might put the image of the university at disrepute and thanked all the distinguished guests for honoring the university with their esteemed presence.
Top on the highlight of the ceremony was the award of Honorary Doctorate Degrees to Professors Oye Ibidapo-Obe and Charles Ejike Chidume, former Board of Trustees Chairman and Acting President of the university respectively.
The event attracted dignitaries from all walks of life including the AUST Board of Trustees Chairman, Mr. Etigwe Uwa, SAN, Professor Haruna Mohammed, EVC, NASENI and numerous others.