AUST CONGRATULATES NUC AT 60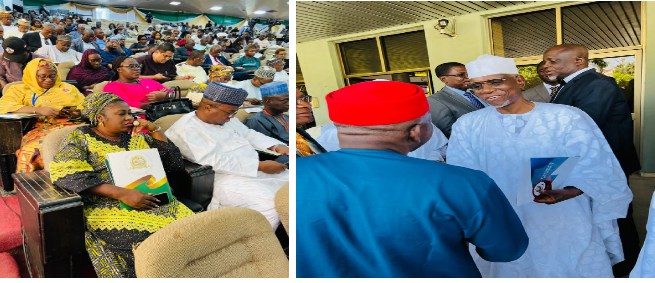 The African University of Science and Technology (AUST) has congratulated the National
Universities Commission (NUC) on its 60th year anniversary.
The Acting President of the university, Professor Azikiwe Peter Onwualu who was at the
epoch-making event to celebrate 60 years of the existence of this commission said that
National Universities Commission (NUC) has within a short period of 60 years raised the bar
on regulatory body activities in Nigeria and Africa.
According to him, "the university system has been nurtured to grow to the level where it is
today from a few universities in the sixties to the current 200+. The launch of the new
Minimum Academic Standards will further guide operators within the university education
space towards respositioning Nigerian universities for better performance. I congratulate Prof.
Rasheed and his team for the excellent work they are doing.
In a colorful event to mark the event, the Vice President, represented by the Secretary to the
Government of the Federation, Boss Mustapha, said that the introduction of the Core
Curriculum and Minimum Standard to university education will also address local issues, meet
international standards and uplift scholarship in the nations universities.
He commended the NUC for un-bundling of some disciplines and introduction of new courses
in the system.
Earlier in his remarks, the Executive Secretary of the National Universities Commission, Prof.
Abubakar Rasheed said ithe Commission commenced the journey to restructure the
Benchmark Minimum Academic Standards BMAS in 2018, introducing in its place, the Core
Curriculum and Minimum Academic Standards (CCMAS), to reexamine existing and introduce
new disciplines and programmes in the Nigerian University System.
The new curriculum unbundled the Bachelor of Agriculture, Bachelor of Science in Mass
Communication and the Bachelor of Architecture Programmes, while establishing some
emerging specializations in these fields as obtained globally.
The Allied Health Sciences was also carved out as a new Discipline from the existing Basic
Medical Sciences discipline.
Professor Onwualu was accompanied to the ceremony by Lizzy Asomugha, Special Assistant
to the Acting President on Strategy and Research.