AUST, EFCC PARTNER ON PROJECT PREVENTIVE ANTI CORRUPTION EDUCATION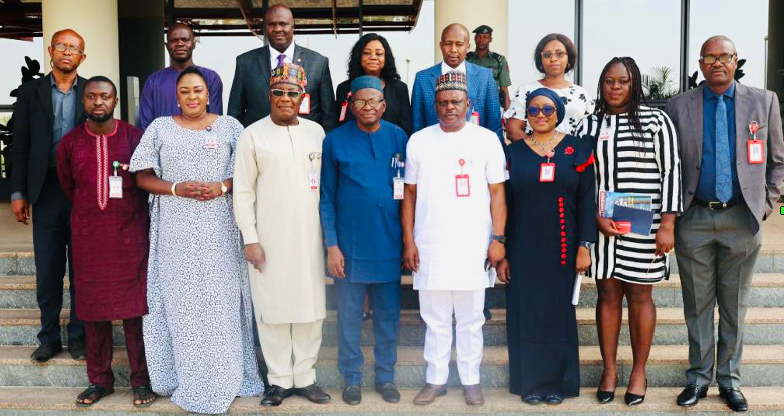 EFCC and AUST management teams pose for a group photograph shortly after the courtesy visit to the EFCC Chairman recently at the corporate headquarters.In line with the desire to attract more partners and collaborators, the African University of Science and Technology, AUST has called on the Economic and Financial Crimes, EFCC to partner with the University on its new project Preventive Anti Corruption Education.
Professor Azikiwe Peter Onwualu, FAS, Acting President of the university made this request when he paid a familiarization visit to the Chairman of the Economic and Financial Crimes Commission (EFCC) in his office in Abuja.
The AUST boss thanked the Chairman of this crime and fraud fighting body for the warm reception according him and his entourage during the familiarization visit.
Professor Onwualu stated that the Anti Corruption Education Project when fully operational  would support the existing national capacity building initiatives and undertake assessment of capabilities with the view to improving Ministries, Departments and Agencies, MDAs, response to the anti-corruption efforts.
He requested the EFCC to nominate a staff of the Commission to participate as a member of the university's Industry Advisory Board so as to give a human face to the anti corruption campaign.
In his words  "We believe that the Economic and Financial Crimes Commission (EFCC) will be a good strategic partner in our programs and may I suggest that we set up a small team from both sides to work out a Memorandum of Understanding (MoU) that will outline the possible areas and details of collaboration between our organizations for mutual benefits." Onwualu enthused.
In his welcome address, the Secretary to the Commission, Dr. George Ekpungu, who represented the EFCC Chairman, called for more public policy interpretation. He said that the new EFCC was generating integrity from within and transmitting the same to Nigerians.
Ekpungu assured that the Commission would work with the university's management in coming up with the Memorandum of Understanding that would be of mutual benefits to the two organizations.
Professor Onwualu and his team were later on decorated as Ambassadors of the EFCC on the Anti Corruption Education Project.
Professor Onwualu was accompanied on the visit by Dr. Abdulhakeem Bello, Director, Academic Planning; Dr. Lanre adebayo, Coordinator, Public Policy and Public Administration, Prince Obioha Atulomah, Head, Media Services/PR; Lizzy Asomugha, Special Assistant to the AUST President on Innovation and Research;, Mr. Solomon Ibrahim, Budget Officer and Personal Assistant to the AUST President and Ms Cynthia Ene Ogbeh, Marketing Consultant, AUST while EFCC Secretary, Dr. George Ekpungu, Abubakar Sahad, Director, Intelligence; Ibrahim Shazali, Director, Internal Affairs; Femi Peter Gbaruu, Director, Planning, Policy, Research and Statistics and Adejoke Liman, Deputy Director, Administration and Human Resources represented the EFCC during the visit.