PROFESSOR ONWUALU LAUNCHES AUSTinspire INCUBATION CENTRE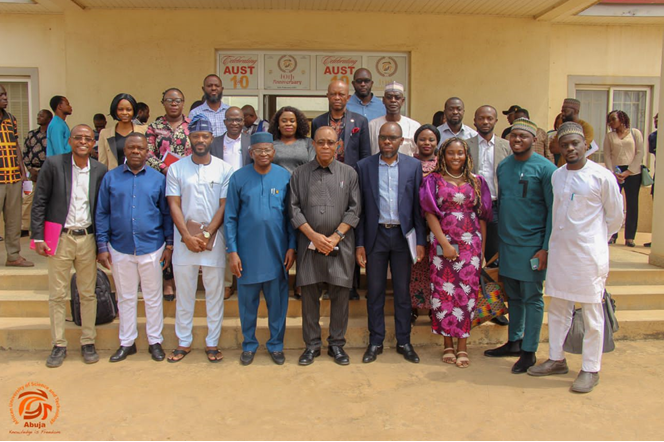 History was made on Wednesday, February 22, 2023, when the African University of Science and Technology (AUST), Abuja launched its incubation hub, the AUSTinspire Incubation Centre (AIC).
The official commissioning of this very important center which was performed by the university's Acting President, Professor Azikiwe Peter Onwualu, FAS, attracted a lot of dignitaries drawn from the academia, industry and members of the diplomatic corps.
Welcoming guests at the launch, Onwualu described the incubation center as a dream come true.
According to him " We nursed the establishment of this innovation and entrepreneurship center in order to translate our research findings to products that would solve not only Nigeria's problems but Africa as a whole and I am happy our hope has been actualized today by the official commissioning of this incubation center"
He thanked the African Development Bank (AfDB), the Core Creation Hub (CcHub), staff and management of the university for the support which culminated to the launch today and enjoined both the staff and members of the general public to avail themselves of the opportunities provided by this center in its fullness.
In his remarks, Jude Adejuwon, Practice Lead of Cchub, who represented the CEO/Co-founder, Mr. Bosun Tijani, thanked the AUST boss and the AfDB for the opportunity given to them to serve. He emphasized that based on the terms of reference given to them as contained in their contract terms, the center has been equipped sufficiently to incubate innovators who would like to use the center to advance their research works.
Good will messages were received from the NMI CEO, Mr. Bonaventure Mbida- Essama, represented by the NMI country director, Mr. Seyi; Dr. Joe Abba from the AUST Industry Advisory Board and some existing hubs representatives in Abuja.
The event climaxed with the cutting of the tape by Professor Onwualu to officially commission the incubation center.