AUSTInspire Incubation Center Hosts Webinar on Building Better Solutions in Product Management.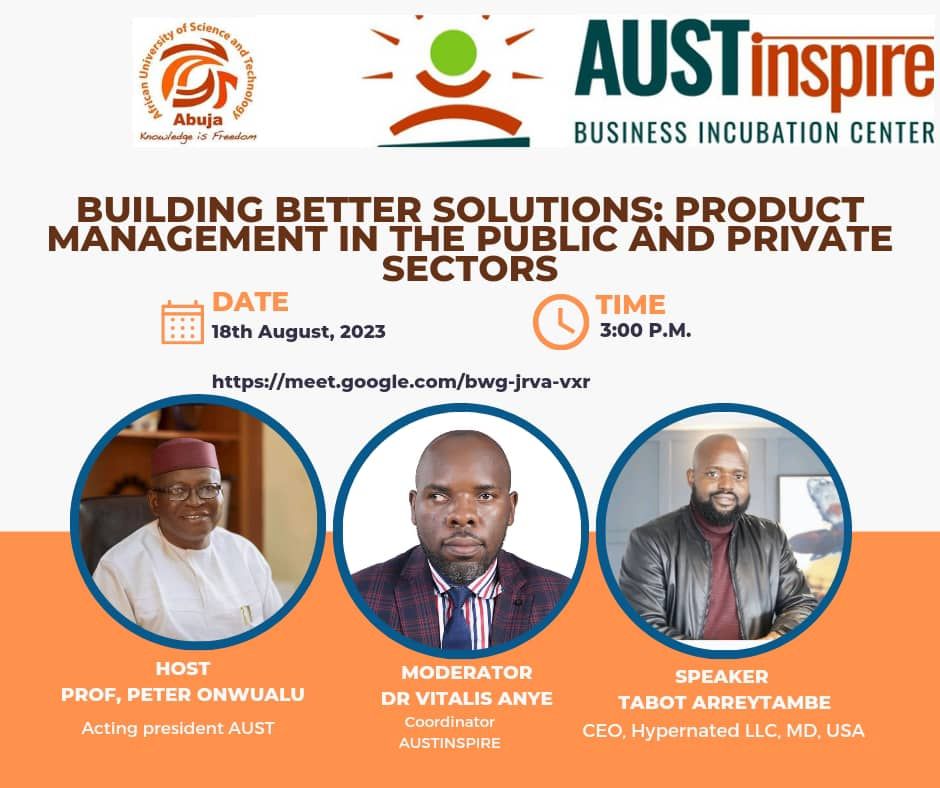 The AUSTinspire Business Incubation Center, a leading platform for fostering entrepreneurship and innovation at the African University of Science and Technology (AUST), Abuja, is set to organize a highly anticipated webinar titled "Building Better Solutions: Product Management in the Public and Private Sectors." The event aims to provide valuable insights and strategies for effective product management across various industries.
The webinar which would be held virtually thereby allowing participants all over the world to join from the comfort of their homes or offices is scheduled to hold on Friday, August 18, 2023, at 3:00pm Nigeria time.
According to the event moderator and coordinator of the AUSTInspire Business Incubation Center, Dr. Vitalis Anye, the Keynote speaker for the discourse will be Mr. Tabot Arreytambe, Chief Executive Officer of Hypernated LLC based in Maryland, USA while the Acting President of AUST, Professor Azikiwe Peter Onwualu, FAS would be the host.
The webinar will cover a wide range of topics, including best practices in product development, effective stakeholder management, and the role of innovation in driving successful product management strategies. Participants will have the opportunity to engage in interactive sessions, ask questions, and gain valuable insights from industry experts.
Registration for the webinar is open to professionals, aspiring entrepreneurs, and anyone interested in gaining valuable insights into product management in both the public and private sectors. For details on how to register for this webinar, kindly click on this link : bit.ly/3DWKdvb
The Keynote speaker, Mr. Tabot Arreytambe received his BSc in Physics (minor: Computer Science), MSc in Computer Science and is currently wrapping up his MBA at the Hult International Business School. He brings over a decade of Education and Teaching experience having served as the Deputy Head of Department for Computer Science at the Nile University of Nigeria, Faculty in Computer Science at the African Leadership University in Mauritius (ranked #1 Most Innovative Company by Fast Company) and coordinator of the Active and Smart Media Research group at the African University of Science and Technology in Nigeria.
He is currently a Product Manager at Capital One in the United States where he leads the development and productionization of Machine Learning models for First Party Fraud detection. He is also the Founder of Hypernated, a workforce development consulting firm on a mission to empower businesses and individuals with the knowledge, skills, and resources necessary to thrive in a rapidly evolving work environment. When he is not teaching or building products, he spends his time serving as a mentor to young leaders, organizing tech community events, speaking at conferences, blogging, and facilitating workshops.
AUSTinspire Business Incubation Center is committed to fostering entrepreneurship and innovation, providing aspiring entrepreneurs with the necessary resources, mentorship, and guidance to transform their ideas into successful ventures. Through initiatives like this webinar, the center continues to empower individuals and contribute to the growth of the business ecosystem.